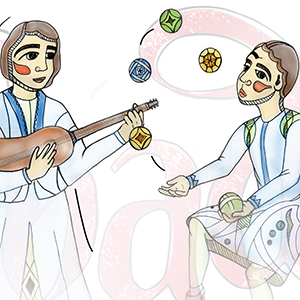 The Original Troubadours
Troubadours and minstrels
Christine Renée Keene, soprano
Armin Abdihodzic, guitar
John Lutterman, viols
Laura Koenig, recorder
Loy Donaldson, percussion
Denise Martin, dulcimer
Jim Kerr, juggler
Sunday, September 30, 2018 | 4:00 PM
Alaska Airmen Association Building on Lake Hood
4200 Floatplane Drive Anchorage, AK
An afternoon of medieval ballads, airs, and dances capturing the spirit of the original troubadours and trobairitz (women troubadours) and their influence on the Renaissance.
Sung mostly in English, this program brings history alive in a unique and beautiful setting on Lake Hood. The original troubadours were traveling musicians of the 12th and 13th centuries who performed poetry, songs, and dances in pursuit of paratge, the ethical code of Medieval Occitania (now southern France). Paratge escapes modern translation. It depicts a balance of bravery, loyalty, kindness, generosity, and tolerance.
Living in a time when people rarely traveled more than a few miles from place of birth, the troubadours led lives full of adventure and intrigue. Their songs spread news and gave cynical commentary on politics, social norms, and even the courtly hosts. Hear music by and learn the stories of Peire Cardenal, Comtessa de Dia, Richard the Lion Hearted (Richard I of England), and a host of other itinerant medieval melodists and lyricists.
Your ticket includes an historically inspired reception.
Tickets Adults $35 // Seniors $25 // Students/Youth $15 available at the door or from CenterTix.