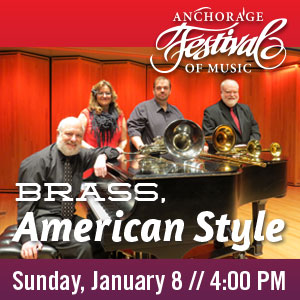 Chugach Brass:
Linn Weeda, trumpet
Cheryl Pierce, horn
Christopher Sweeney, trombone
with Dean Epperson, piano
Alaska's own Chugach Brass brightens the winter with an exciting and eclectic performance of American music. The program will feature the world premiere of a work for brass trio and piano by Boston composer Louis Stewart. Chugach Brass was formed over 10 years ago and has performed exciting and challenging programs throughout Alaska. The core brass performers are all members of the Anchorage Symphony Orchestra.
Performed at UAA Recital Hall, Fine Arts Building