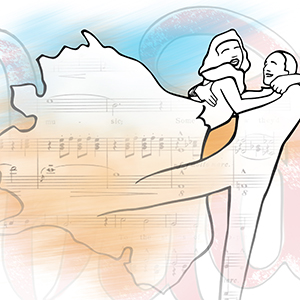 An Irving Berlin Alaskan Revue
Featuring
Kate Egan, soprano
Mari Hahn, soprano
Janet Carr-Campbell, piano
Juliana Osinchuk, piano
Dawn Lindsay, violin
And many special guests showcasing the musical and dancing talents of young Alaskans studying music locally and nationally.
Sunday, January 6, 2019 | 4:00 PM
UAA Recital Hall
Anchorage, AK
A cascade of our state's finest established and up-and-coming musicians celebrate Irving Berlin's visit to Alaska in 1937!

In the summer of 1937, Amelia Earhart disappeared, the Golden Gate Bridge opened, and Irving Berlin (the Broadway Troubadour) traveled to Alaska. According to The Daily Alaska Empire (August 13, 1937), Berlin and his entourage "went through Juneau today like a swing band through a current song."
In the months after his Alaskan experience, Irving Berlin produced some of his finest musicals, and he published "God Bless America."
Presented with the flair of a traditional music revue, archival correspondence and newspaper stories are dramatically juxtaposed with a mix of Berlin's most famous songs (such as Blue Skies and How Deep is the Ocean) and lesser-known musical gems.
Tickets Adults $35 // Seniors $25 // Students/Youth $15 available at the door or from CenterTix.