Anchorage Festival of Music History
The Anchorage Festival of Music was founded in 1956 though the collaboration of Mary Hale and the internationally renowned conductor, Robert Shaw, who served as Artistic Director and Conductor for the first twelve years of the company. Joining Maestro Shaw in the founding year were John Wustman, Julius Herford, Robert Gerle, and Blake Stern. The Festival was organized to "provide local musicians and audiences the enriching experience of great music; studied, rehearsed and performed with inspired, professional direction." From the 1957 program… "The flashing aurora, the treasured wealth in the earth, the towering peaks-again all these have their musical counterparts in the inspiration and beauty which come to us with the artists we are now honored to receive. As they share with us their dedication to the universal speech of music, we who listen and who participate in the Anchorage Festival of Music again become one with all the world of music, which is bound together in tribute to the finest interpretations of the masters' works."
In 1986, the Alaska Festival of Music consolidated with the Basically Bach Festival, founded in 1978 by Elvera Voth, and together they re-established the original name of Anchorage Festival of Music.
Throughout its history, the Anchorage Festival of Music has provided opportunities for blending the finest local musicians with visiting national and international guest artists. Both local and guest soloists have been featured in chamber recitals, orchestral and choral/orchestral concerts.
The Anchorage Festival of Music is a non-profit community organization. In the past it has been supported in part by grants from the National Endowment for the Arts, the Alaska State Council on the Arts, and the Municipality of Anchorage Arts Advisory Commission. Current support is provided by grants from the Atwood, Getty and Carr Foundations, by major contributions from corporations as well as generous contributions of time and financial support from many individuals and businesses.
Program cover for the first Anchorage Festival of Music concerts, August 27-September 4, 1956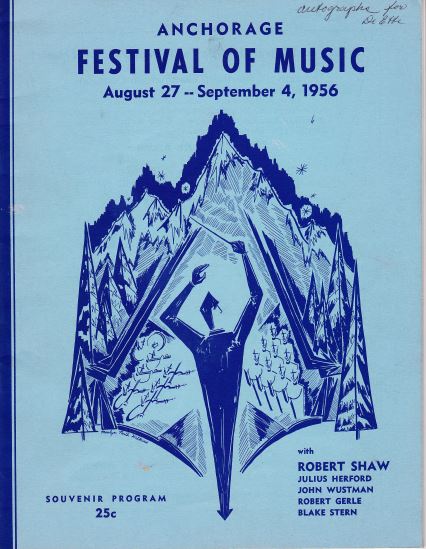 Anchorage Festival of Music Mission Statement
Music is essential to the aesthetic, intellectual and spiritual development of individuals and their community, and should be made available to people of diverse ages, abilities, and means. Therefore, the Anchorage Festival of Music is dedicated to uniting the talents of local and guest artists to create and share the rich beauty of classical and contemporary music through a program of music education and performances.
Anchorage Festival of Music Board
The Anchorage Festival of Music is governed by an active and involved Board of musicians and music lovers. We have a lot of fun and take pride in continuing AFM's long tradition of bringing great music to Anchorage audiences and great performance opportunities to Anchorage musicians. If you are interested in joining the Board, please talk to one of us. Current board members include:
Corinne McVee, President
Gunnar Knapp, Vice President
Mary Ann Molitor, Treasurer
Juliana Osinchuk, Secretary & Young Alaskan Artist Award Director
Barbara Kagerer
Jeri Rubin
Laura Koenig, Artistic Director