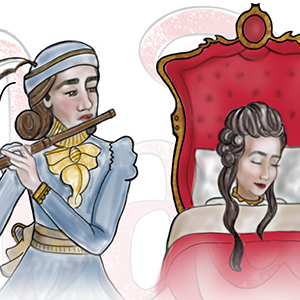 A Baroque Slumber Party
Musical servants
Victoria Fraser, soprano
Laura Koenig, baroque flute
Dawn Lindsay, baroque violin
Linda Ottum, cello
Juliana Osinchuk, harpsichord
An elegant post-concert reception is included.
Saturday, March 30, 2019 | 7:00 PM
Private residence in lower hillside ("Chair House" – home of Brian Chen and Tim Pearson)
Anchorage, AK
Kick off your shoes, put on your slippers, and enjoy music composed for the seventeenth- and eighteenth-century private home!

While most baroque musicians were servants of the church or aristocracy, those with the greatest musical and social skill might be invited to compose and perform for private concerts or domestic events. Relax in a welcoming and comfortable atmosphere while reveling in music by Jean-Baptiste Lully, George Frederic Handel, and other assorted works written for the bedrooms of history.
Victoria Fraser is an Alaska-born soprano currently living in Ireland. As an early music specialist, she has performed around the world from the Oregon Bach Festival and Audivi in Detroit, Michigan to the Bachkantaten-Akademie choir in Thuringia, Germany. This concert is a rare chance to hear her perform in her home state.
Tickets Adults $50 // Students/Youth $25 available at the door or from CenterTix.